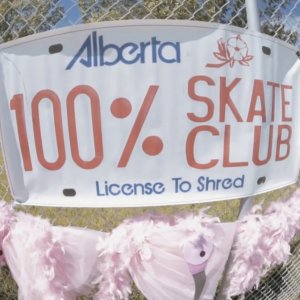 This year for GO SKATE DAY we were happy to support the 100% Skate Club in partnership with Hull Skateboarding as they hosted the All Girls, What Flamingo 3 festival. "The event was a blast, the skater girls ripped, families came out to support, good vibes were had by all, and every skater girl walked away with a prize from one of our amazing sponsors!"
See the full Video Recap by Flying Fox Productions Below
Push To Heal is a short film made in association with Hull Services and the Child Trauma Academy – the home of our Matt Banister Memorial Skatepark.  It endeavors to verbally articulate and visually demonstrate the connections between skateboarding and neuroscience, and highlights skateboarding as an activity that can heal the human brain from past trauma. This film also provides a snapshot of how and why skateboarding should be viewed as a viable option as part of treatment for high needs children.
It was a privilege for our team to donate a significant portion of our design-build services to create this special campus park.  A special Thank you to Jim and Susan Banister, Janet Morgan-de Bruyn, Matt Allen, and Joel Pipus for bringing this amazing project and life-changing program to life.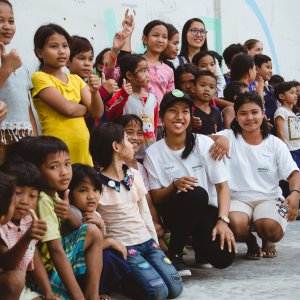 New line Skateparks is dedicated to supporting organizations like Skateistan as we believe that skateboarding can truly break barriers and bridge individuals together regardless of race, class and/or gender. We choose Skateistan as their history of working to empower marginalized populations in regions of the world divided by war, conflict and oppression is nothing short of inspiring. They emphasis female participation in areas of the globe where women and girls have a lack of opportunities. In February 2018, we sent our very own Chris Ray, who is a former employee of Skateistan and has been instrumental in two Skatesitan skatepark projects so far, to Phnom Penh for the grand opening of their new school and outreach facility. Read more about his experience below: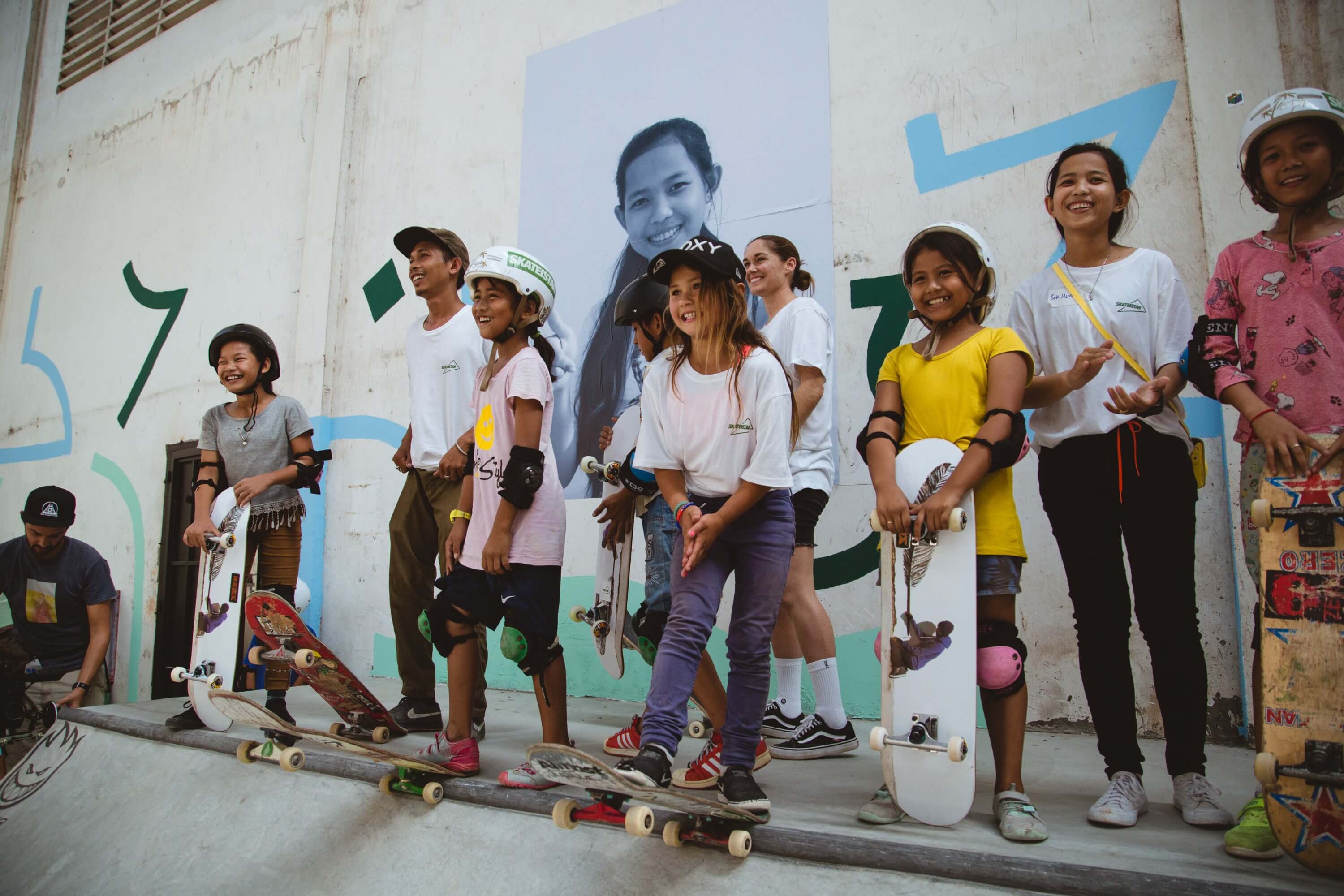 Sky Brown leading the Charge at the Grand Opening – Jeremy Meek 2018
I am a former project manager for Skateistan, building new spaces in Afghanistan, South Africa and Cambodia, and the opportunity to keep working with Skateistan has been one of my favorite things about my job at New Line Skateparks. In 2017, Skateistan announced plans for a new skate school location in Phnom Penh, and we had the privilege of helping them design and build new concrete skate features for the park.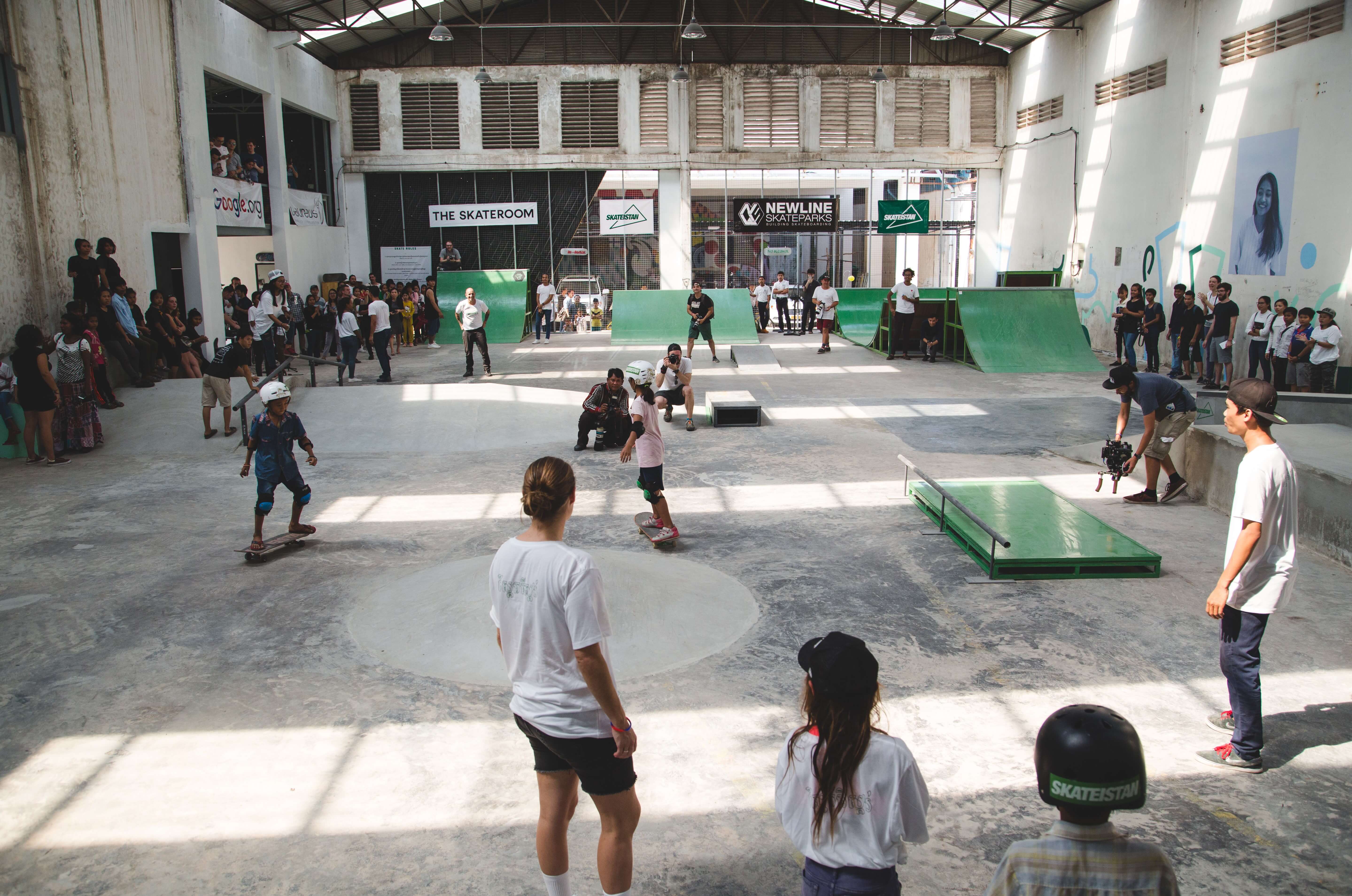 Concrete elements integrated with existing ramps – Jeremy Meek 2018
At first my role was mostly behind a desk, communicating with the local staff about what features would work best and drawing up the plans for construction.  It was a bit tough to estimate how long the build would take, knowing that unforeseen delays always present themselves, but we went ahead and created a design for a full skatepark that incorporated several ramps from an older facility.  New Line then sent two of its best builders, Jesse and Jeff, to Cambodia for one month and they were able to get everything we drew built, thoroughly exceeding our expectations.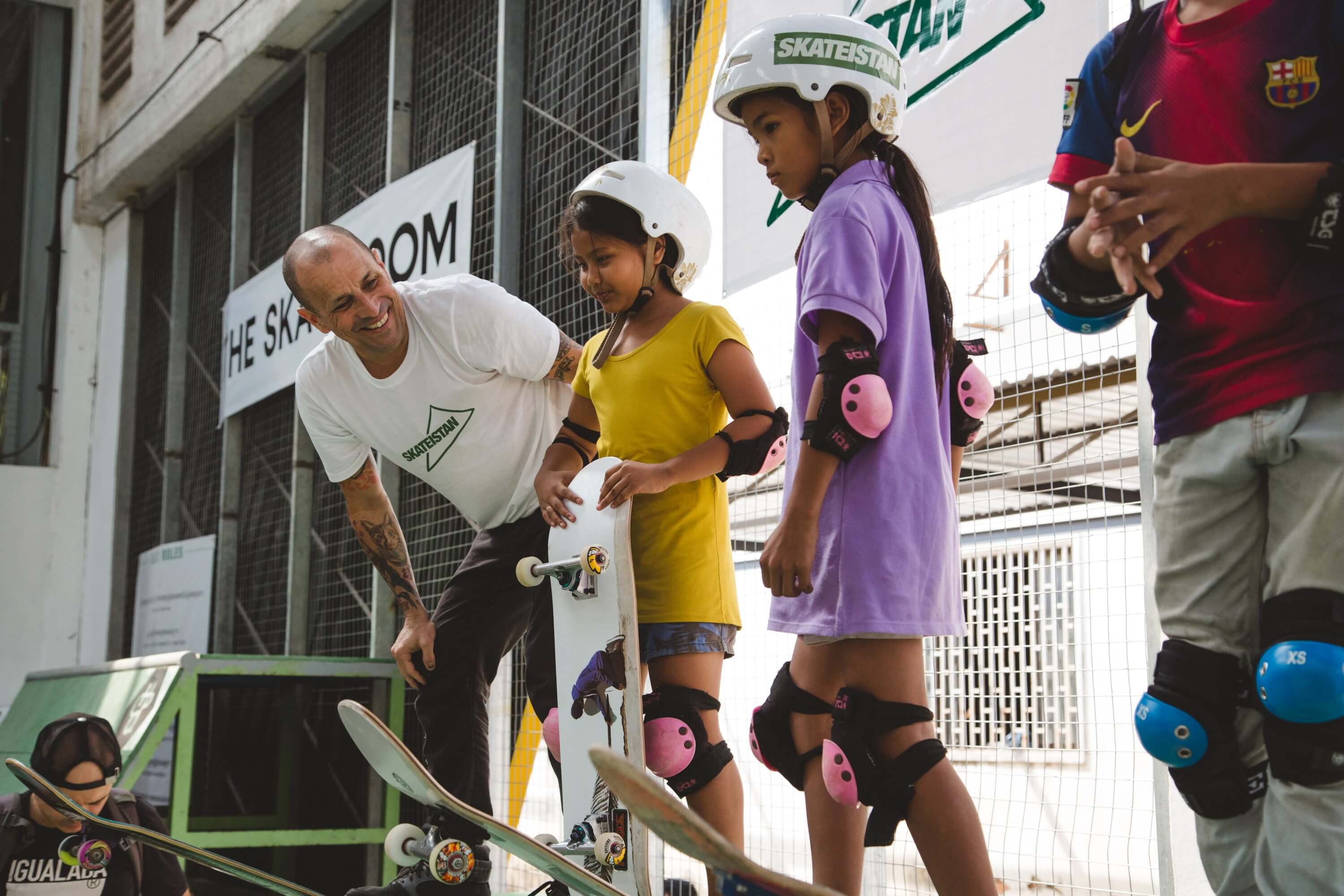 The infamous Jim Thiebaud helping kick things of – Jeremy Meek 2018
In February of 2018, I had the opportunity to travel to Cambodia to attend the grand opening of the new skate school.  After working in South Africa I knew a bit about what goes into opening a new school, but I really wasn't sure what to expect traveling to this unfamiliar part of the world.   Phnom Penh is an incredible city to visit, and from what I heard the rate of development there is tremendous – the contrast of 500 year old Buddhist temples with the newer modern architecture was unexpected.  It did remind me of South Africa in many ways – a beautiful country with a troubled history, full of wonderful people and world of potential.
Dropping in – Jeremy Meek 2018
The grand opening was a huge success and once again, the Skateistan team both local and international worked so hard to make it as great as it could be.  The transformation of the facility in the final 48 hours alone was impressive – everyone was pitching in on all the final details which included cleaning, painting, welding, moving scaffolding and hanging artwork, setting up all of the stations for the guests, media prep, and ribbon cutting logistics with a bit of skating mixed in.  The morning of the opening everyone was feeling great and looking for more ways to help, but there wasn't much left to be done besides open the school.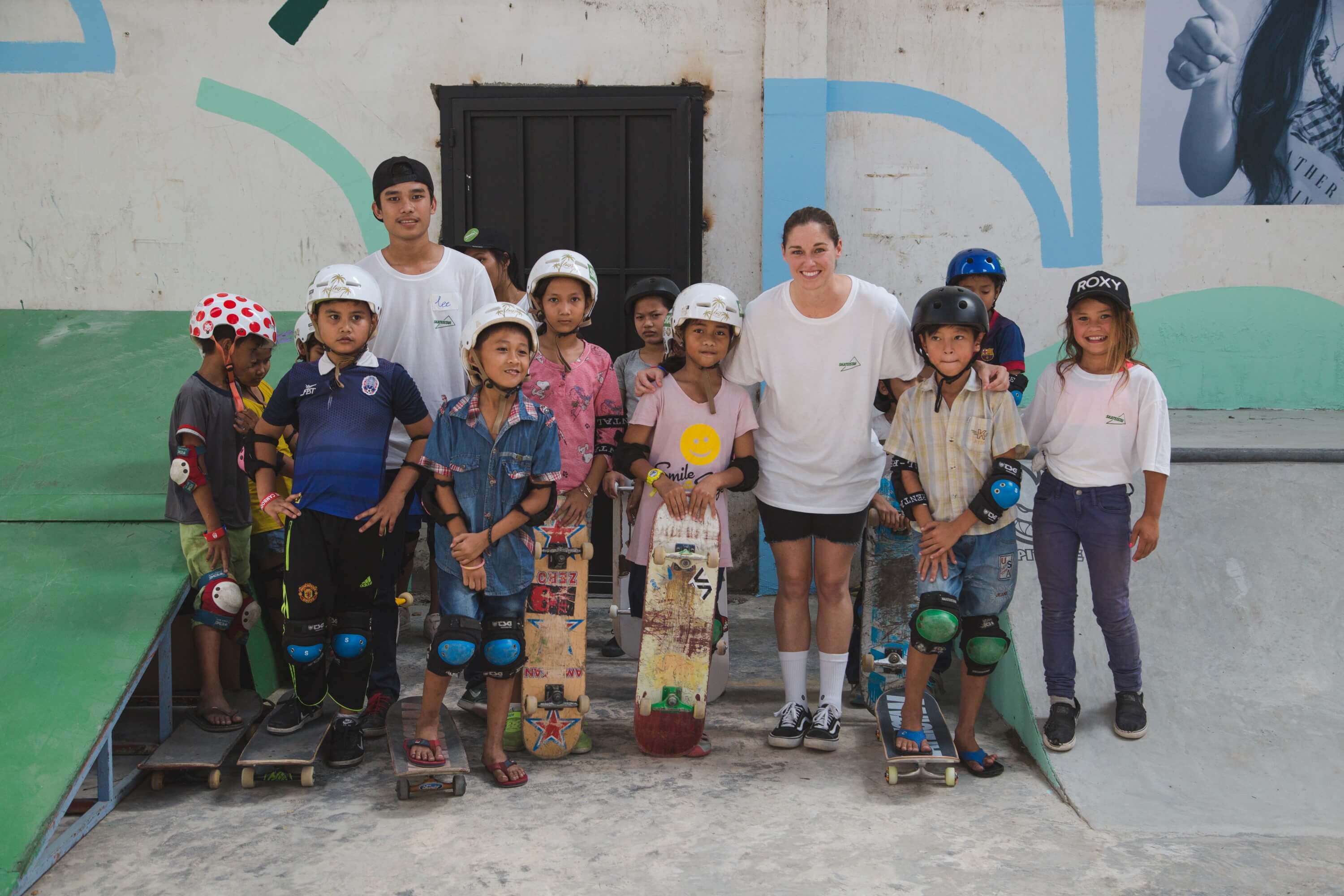 Sky Brown, Mimi Koop and local participants- Jeremy Meek 2018
The event was so much fun, and it seems like Skateistan has attracted the most creative personalities from all over Phnom Penh to their program.  I expected the great skate jam, but the breakdancing, live music, magic show and VR nature experience were all big surprises.  As usual, Skateistan's young female skaters were fearless dropping in on the biggest quarter pipe, and I'm so excited to see what they can learn now that they have perfectly built, mellow concrete features.  From Afghanistan to Cambodia the students will get really good at riding whatever they have at their disposal, and with the improved skatepark in Phnom Penh we're sure to see even better skating.
Chris Ray – Landscape Designer New Line Skateparks