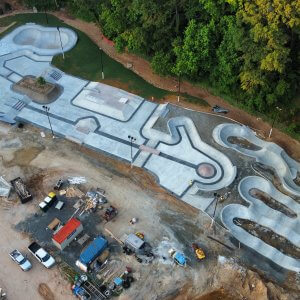 The newest (and largest) skatepark-pump track combination in Georgia is nearing completion and set to open this summer! 
Located in C. Jay Smith Park in Newnan GA, this regional facility will be home to over 30,000 sqft of rideable terrain – complimented by playgrounds, restrooms, a splash park and a variety of other support amenities.

A direct result of the dedicated advocacy by a handful of local youth, parents and community leaders, the park features an expansive street/plaza section, competition-level bowl, various obstacle and transition elements, and one of the Nation's few integrated site-built concrete pump tracks!  All features were informed by close consultation with local users and community members (thank you to Vinylite Records for providing their venue for the design workshops) – resulting in a compelling beginner, intermediate and advanced terrain assortment that is delineated by artistic floor patterns of colored concrete, stamped textures, and sculptural elements throughout the park

It is safe to say that the park will not only be a prized amenity for local residents but a sought-after destination for skaters and riders from across the Nation. Stay tuned for details on the Grand Opening event anticipated to be hosted mid-summer!